DIET FOOD PYRAMID DR. ORNISH
I WANT TO THANK JENNIE WILKINS FOR HER MAJOR HELP WITH OUR DIET AND HELP WITH THE FOOD WE NOW PURCHASE. HER MANY HOURS OF DEVOTION AND CARING HAS HELPED US ON THE ROAD TO OUR HEART DISEASE REVERSAL.
Click on RECIPES to enjoy more than 120 great Ornish friendly dishes.
PRODUCT GUIDE click on the button to go directly to the Product Guide.
Click here to download a .pdf file of the "Product Guide of Ornish friendly foods." The Product Guide is not a complete list but it is an excellent reference. Be sure to check all food labelsto be sure they are still Ornish.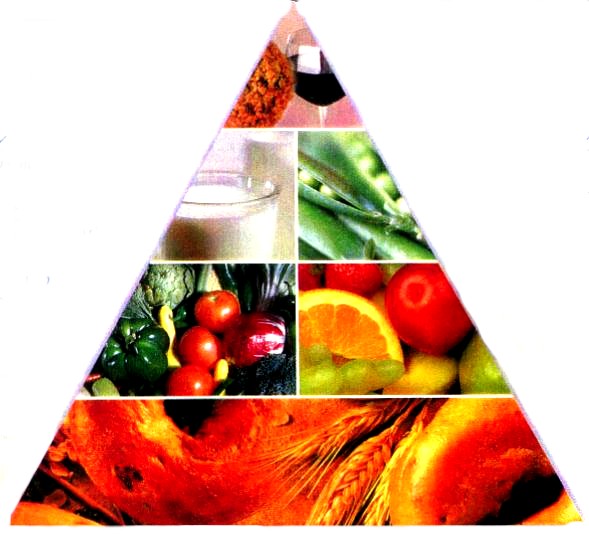 DAILY REQUIREMENTS:
Grains 6 or more servings with a minimum of 6 whole grains.
Fruit 2-4 servings
Protein 2-4 servings (Includes one full fat soy)
Dairy 0-2 servings non-fat milk products
Alcohol 0-1 serving
Sweets 0-2 servings
NUTRITION SUPPLEMENTS ARE ALSO RECOMMENDED
Multivitamin with minerals. 1 per day, with vitamin B12 (2.4 mcg), without iron (unless woman of childbearing age or prescribed by your physician), providing 100% RDA.
Fish Oil - Women 3 grams per day in capsule form. Men 3 grams per day in capsule form.
Products with "liver" in their title, such as cod liver oil, are not appropriate. Fish oil supplements should not contain cholesterol.
Optional - choose food sources first for these nutrients
Vitamin C - 1-3 grams per day, Vitamin E - 100-400 IU per day (Check with physician if taking statin medications). Folic Acid - 400-1000 mcg per day, Selenium - 100-200 mcg per day.
Note: Before starting any diet consult you physician. Please call the Health Connection at United Hospital (304-624-2935) for information about joining a program. Diet programs can cause serious health problems if not monitored by a physician.