As you read these few paragraphs you will hear a beginning class of Stress Management by Elisabeth Connor. Please be patient this takes a while to load. The background will repeat so listen the her after you read our comments, and visit one of our classes. This is one of the essential components of reversing heart disease. I want to thank Elisabeth for helping with the CD'S we made to continue our life style change.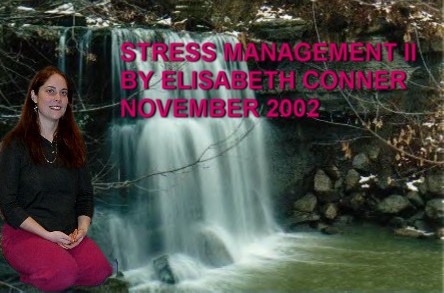 Place mouse over pictures below to show caption.
Stress can be defined as the response of the human organism to any change or demand. Whether the demand or stress is positive or negative, the body responds automatically.
Techniques: An important component of this program involves opening your heart to your feelings and to inner peace through the practice of a variety of stress management and relaxation techniques: Stretching, Deep Breathing, Imagery, Meditation, and Progressive Relaxation.
These techniques are much more than simple strategies to help us cope with or manage stress. They are designed to increase our awareness of what is happening inside us - physically, emotionally and spiritually. Increasing our awareness extends our control over what is happening within us. As a result, we are better prepared to recognize the symptoms of stress and make changes before we develop unhealthy conditions such as heart disease.
For more information please contact the Health Connection at United Hospital Center 304-624-2935.
Or Directly contact Elisabeth Connor, RYT, Integral Yoga Certified, Stress Management Therapist at 304-873-2128.